Our second historic plaque was unveiled on Tuesday, August 11th, 2015  at the corner of Merritt St. and Bessey St., just south of Glendale Ave. 
Click on each image for a closer look!
Warm temperatures did not deter a sizeable crowd from attending the unveiling of the NS&T Merriton plaque; the second in the series brainstormed by the CRHA Niagara Division.
"Niagara was a hub of innovation; if we can do it once, we can do it again. That speaks to our future as a Niagara community", said Paul Chapman, NS&T plaque project coordinator.
The plaque unveiled on Tuesday August 11, 2015 was the second in the series commemorating the electric railway, the Niagara, Saint Catharines and Toronto (NS&T), that was in operation between 1899 to 1959. It connected Port Dalhousie, Port Weller and Merriton with Thorold, Niagara Falls, Welland and Port Colbourne.
The plaque was erected on an area of green space that was once home to the Merriton rail station and currently is owned by Trillium Railway, who allowed the division to install the plaque.
Photo #1: The Niagara Division of the CRHA unveiled a plaque in Merriton commemorating the NS&T railway and a station that used to stand on the corner of Merritt St and Bessey St
L-R: City Councillor Bill Phillips, Merriton Councillors Dave Haywood and Jennie Stevens, CRHA Niagara Division members Tammy Frakking (president) and Paul Chapman (NS&T plaque project coordinator), Regional chair Alan Caslin, Mayor Walter Sendzik, Councillor Carlos Garcia and local NS&T historian and local author Andy Panko.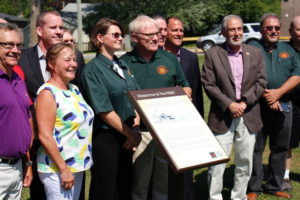 Photo #2: Paul Chapman addresses the crowd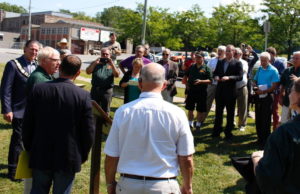 Photo #3: The Merriton plaque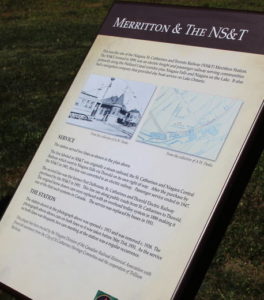 Click here to view the contents of this plaque.
Photo Credits: Karena Walter (St Catharines Standard staff)