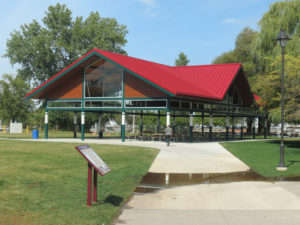 The following images and text are displayed on our CRHA Niagara NS&T plaque in Lakeside Park in Port Dalhousie.
Click on each image for a closer look!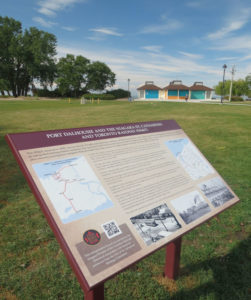 The Plaque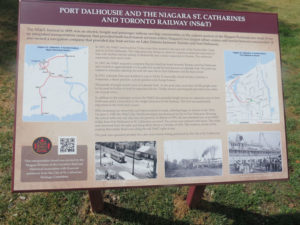 The NS&T, formed in 1899, was an electric freight and passenger railway serving communities in the eastern portion of the Niagara Peninsula (see map). It was an integrated transportation company that provided both local transit services within Niagara's two largest urban centres and service between communities. It also owned a navigation company that provided day boat service on Lake Ontario between Toronto and Port Dalhousie.
In 1901, the NS&T constructed a 7.2 km route that crossed to the west side of Twelve Mile Creek and on to Port Dalhousie. This alignment was chosen to allow for a planned westward expansion to link with another electric railway in Beamsville and a future expansion to Toronto. The westward expansions were never built.
In 1902, the NS&T acquired a company that provided day boats between Toronto and Port Dalhousie an create an approximately 2.4 ha park that would be become know as Lakeside Park.  The park was created to stimulate ridership for both the new line to Port Dalhousie and the boat service.
In 1912, Lakeside Park was doubled in size to 4.8 ha. IT eventually would include a midway, a restaurant, a dance pavilion and change houses.
Thousands of people would come to Lakeside Park. In the peak year, more than 55,000 people came to the park by trolley or boat for organized picnics. Trolley service was frequent and extra trains ran at peak times.
In addition to the passenger service, the NS&T also provided freight service to industrial users in Port Dalhousie and a connection to the freight shed next to the harbour.  This link was particularly important in the fresh fruit season.
With increasing car ownership and improvements to roads, ridership began to decline in the 1920's. On June 2nd, 1949, the NS&T ship Northumberland was destroyed by fire in Port Dalhousie.  Running the service with only oen sip was not practical. In March of 1951, the last scheduled run of the NS&T trolley from Port Dalhousie to St. Catharines occurred.  The service was replaced with buses.  The tracks were removed from the park and along Main Street in October of 1951.  The northern section of the existing Martindale Road runs along the old NS&T right of way.
The park was operated privately for a few years before being purchased by the City of St. Catharines.
NS&T – The Port Dalhousie Extension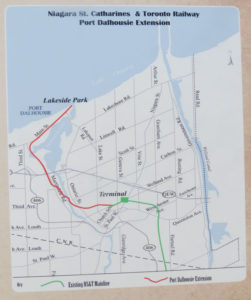 NS&T – Major Interurban Routes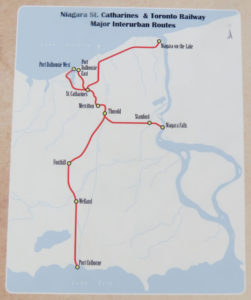 Port Dalhousie Station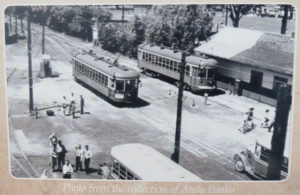 Image  from the collection of Andy Panko
Arrival of the Dalhousie City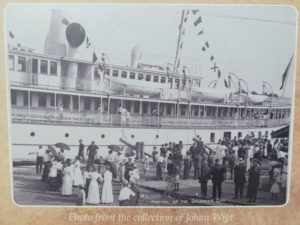 Image from the collection of Johan Wigt
Port Dalhousie Docks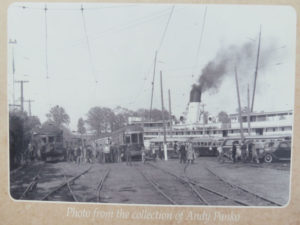 Image  from the collection of Andy Panko