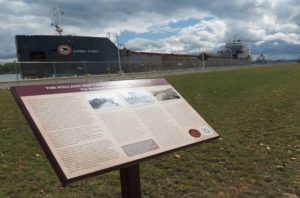 Click on each image for a closer look!
We unveiled a new historical plaque at Charles Ansell Park, on the Recreational Trail beside the Welland Canal, at the intersection of the Welland Canal Parkway and Bunting Road, St. Catharines, on Friday, October 13, 2017, at 2:00 p.m.
The plaque commemorates the Welland Ship Canal Construction Railway which was built expressly for the construction of the Fourth Welland Ship Canal, and it operated during the Canal's construction period between 1913 and 1934. Its Main Line ran between Port Weller in the north at Lake Ontario, southwards 12 kilometres (7.5 miles) to the base of the Niagara Escarpment at Merritton. Other sections were built for the Canal's construction in Welland and Port Colborne.
A double tracked, standard gauge main line, the WSCCR had several locomotives, rolling stock, signaling system, telephone dispatching train system, and other features just like a Class 1 railroad of its time. The Railway hauled supplies and equipment to the construction site, and tons of earth and rock away. It was not without its hazards; 37 of the 137 workers killed in the construction of the Fourth Canal, were those killed in construction accidents related to the Railway.
Tammy Frakking, President of the CRHA Niagara Division said, "If local history is not preserved, it is forgotten. The tracks are gone; little evidence remains. This plaque preserves information for the younger residents of St. Catharines, and visitors to the Niagara region. It features a unique and little-known part of the present Welland Canal's construction history."
This local history plaque project was made possible by donations from the CRHA Niagara Division, and from private donations from three local residents; Art Ellis, Kenneth Gansel and Dr. Andrew Panko.
Here are some more images from the unveiling: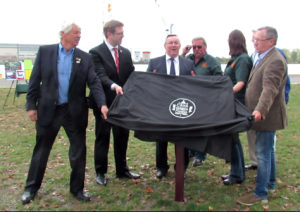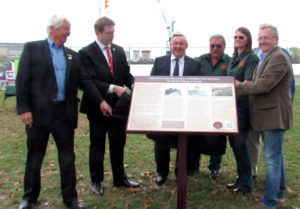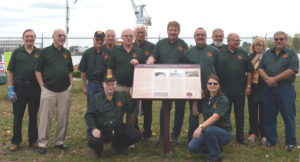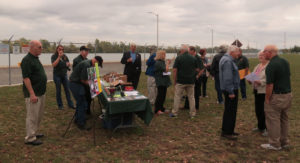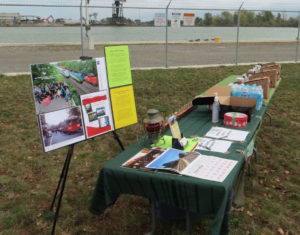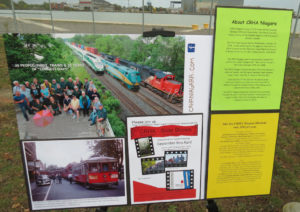 Click here to view the contents of this plaque.