Click on each image for a closer look!
This was the site of the Niagara, St. Catharines and Toronto Railway (NS&T) Merritton Station. The NS&T, formed in 1899, was an electric freight and passenger railway serving communities primarily along the Welland Canal corridor plus Niagara Falls and Niagara on the Lake.  It also had a navigation company that provided day boat service on Lake Ontario.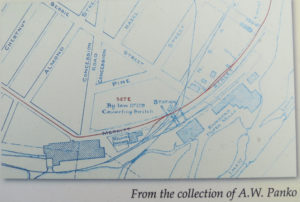 SERVICE
The station served two lines as shown in the plan above.
The line labelled as NS&T was originally a steam railroad, the St. Catharines and Niagara Central Railway which went to Niagara Falls via Thorold on its own right of way.  After the purchase by the NS&T in 1901, this line was converted to an electric railway. Passenger service ended in 1947.
The second line was the former Port Dalhousie, St. Catharines and Thorold Electric Railway purchased by the NS&T on 1901.  This line ran along public roads from St. Catharines to Thorold.  The original horse drawn cars were replaced with an overhead trolley system in 1888 making it one of the first such systems in Canada.  The service was replaced by buses in 1931.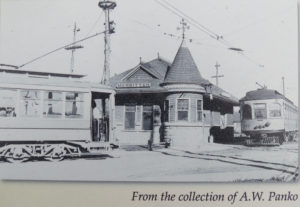 THE STATION
The station shown in the photograph above was opened circa 1913 and was removed circa 1938. The photograph above shows cars on both lines so it was taken before May 31st, 1931.  As the service on both lines was frequent, to cars meeting at the station was a regular occurrence.
This plaque has been erected by the Niagara Division of the Canadian Railroad Historical Association with financial assistance from the City of St. Catharines Heritage Committee and the cooperation of Trillium Railway.