Below you will find a growing collection of images and stories provided by Dave Morgan of CRHA Niagara.
Click on each image for a closer look!
…………….. 2016 ……………..
February 2016 Photo Story: Hamilton Heritage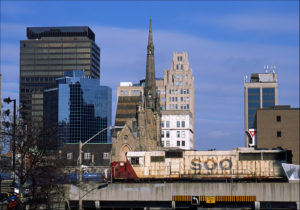 So many interesting details are evident as Northbound CP #255 slowly makes its way past Hamilton Station, and about to enter the Hunter Street Tunnel. The Connolly 30-storey condo tower will integrate the facade of the 134 year old the former James Street Baptist Church, as construction progresses. James St. has been converted from one-way Southbound to two-way; fortunately the new bridge signage has not covered the TH&B RY logo. Lastly, SOO #6037 has yet to be painted in CP action red.
Click here for expanded story with additional images from February 2016!
…………….. 2015 ……………..
November 2015 Photo Story: Dueling Turbochargers 
With a combined service life of 117 years, a pair of vintage ALCO/MLW Ontario Southland Railway diesels perform switching duties at the GM CAMI Automotive Assembly Plant. The puff of black smoke is characteristic of the ALCO straight 6 cylinder 251 series engine, the result of "Turbocharger Lag", as the turbo spins up with an increase in throttle position. OSR Model S-6 500 was built in 1956 by ALCO and is rated at 900 H.P., while the 1000 H.P. S-13 502 is a bit newer, built by MLW in 1959.
Click here for expanded story with additional images from November 2015!
…………….. 2014 ……………..
September 2014 Photo Story: A Bridge Too Low…   
If a bridge could talk, it would have quite the story. Located in Oxford County on County Rd 45 (Putnam Rd), the abutments of this sturdy specimen must be over 100 years old.  Built in the days of steam locomotives and horse buggies, height and width clearances were not much of a concern, in fact the bridge is built at 90 degrees over the road, forcing a slight jog. Enter the 21st century, CN installed steel girders to protect the bridge, as many transport trailers exceeding a 12foot height have had the roof sheared off.
Click here for expanded story with additional images from September 2014!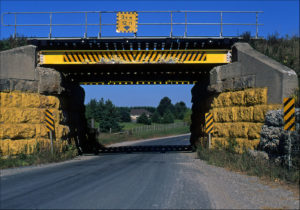 …………….. 2013 ……………..
October 2013 Photo Story: Peninsula GO Train…

This image was shot on the Thanksgiving Weekend, October 2013. While there appears to be two mainline tracks, in reality the North Track (On the Right) is not CTC signalled, and has a reduced speed limit through Hamilton Yard. Referred to as "The Connecting Track", it's typically used to hold freight trains while they set-off or pick-up at Hamilton Yard. The GO train is headed away from me, with the engine at the front, that's a "Control Cab" at the end utilized for the trip Eastbound towards Niagara Falls.
Peninsula GO Train…    As a prelude to daily GO train service along the CN Grimsby Sub out to the Niagara Peninsula, GO has provided over the past few years seasonal weekend only service to Niagara Falls and back, with a stop also at St. Catharines. The service ended in 2013 on the Thanksgiving Weekend, as the Westbound morning train out of Niagara Falls passes under the former Bay St. bridge, now demolished to make way for a replacement. Amtrak #97 is late today, so GO will be first up on the single mainline.
Click here for expanded story with additional images from October 2013!
…………….. 2012 ……………..
March, 2012 Photo Story: Twenty-Two Thousand New HP ….
General Electric's Erie, Pennsylvania locomotive plant has just completed construction of 5 new ES44AC's for Canadian Pacific, and after shipment to Buffalo, CP train #255 has picked them up for final delivery to CP Toronto Yard for commissioning. As CN #421 enters Hamilton on the right, the interesting CP consist passes junction Desjardins, where GO trains connect to the CN Oakville Sub. Power is CP 8888, NREX 7368, ICE 6449, and new big red CP 9353, 9362, 9357, 9352, and 9363.
Click here for for expanded story with additional images from March 2013!
February, 2012 Photo Story
Kitbashing on a 1:1 Scale: The art of "Kitbashing" is displayed by ancient CN GMD1, rebuilt in February 1998 with the four wheel trucks and fuel tanks from retired GMD1 1140, and frame / body of 1046. A uniquely Canadian locomotive, they were built General Motors Diesel (GMD), the Canadian subsidiary of GM's Electro-Motive Division, from 1958 to 1960 mainly for CN. Basically a switcher on an extended frame to allow A-1-A trucks for light branch lines, CN 1444 is passing Yager on the Stamford Sub, at age 53.
Click here for for expanded story with additional images from February 2013!
January, 2012 Photo Story
Hostage of the CAW…     EMDX 104 isn't going anywhere, as members of the Canadian Auto Workers union stand guard 24/7 preventing movement of almost complete SD80Ace parked at the Ingersoll Yard. Caterpillar subsidiary Progress Rail, who purchased the London locomotive plant in 2010, announced early February that the plant would permanently close, after about 460 unionized staff were locked out New Year's Day. The unit will be painted by an outside contractor for Vale, after an acceptable CAW severance package.